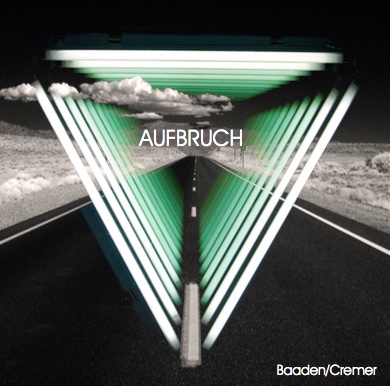 In Andreas' Antares studio in Aegidienberg or the  Level π  studio in Cologne, Baaden and  Cremer create tracks ranging from Berlin school EM and dark ambient to Prog and Krautrock.
"Aufbruch" is a collection of old and new tracks which haven't been released before. The album is released by Mellowjet. It's available as CDR with a nice 4-page-booklet or download.
Listen/download Baaden/Cremer on Bandcamp
---
Uwe Cremer and Thomas Rydell first met thanks to their mutual friend Chris Newman in 2008. At the time, Chris was running a podcast radioshow (TDFZ Radio Show) featuring musicians who were influenced by the legendary Krautrock Band Tangerine Dream. The music of  Thomas and Level π was aired on a regular basis on TDFZ Radio Show and attracted the attention of the listeners. With Krautrock as their mutual common ground, Rydell and Cremer decided to get together and discuss a collaboration. The result can now be heard on their CDs Sirius Singularity and Time Trilogy. While Uwe created the floydian and psychedelic atmosphere , Thomas' contribution was mainly orchestral arrangement, something which he has worked with while scoring films. Although they have met and worked together in real life, the work process has mainly taken place via the Internet. Thomas lives in Eskilstuna, Sweden, and Uwe in Cologne, Germany.
Youtube: Sirius Singularity – Teaser
Listen to SIRUS SINGULARITY on Bandcamp
Listen to TIME TRILOGY on Bandcamp
---
with Dave Pearson aka Computerchemist as "Audio Cologne Project"
featuring Zsolt Galántai (Ossian, Baba Yaga, Rusty Gold) on drums.
This project is very much focussed towards the experimental "Rock" elements of Krautrock, with drums and guitars in the forefront, but at the same time it doesn't completely forget about the Berlin School sequencer lines and the more dreamier moments which often punctuate the music throughout.
Listen to AUDIO COLOGNE PROJECT – 2911. on Bandcamp